Discover more from Adi Patil
A little bit of everything and a lot of nothing.
Tasty Morsels from Groovy Hubs #9
Is there a normal to return to?, Stories from two incredible essays on Boeing and Goldman Sachs, Predict the impact of coronavirus on India's GDP
Hi People! 
It took more than a year for March 2020 to finish, and here we are in April, dancing to the tunes of a virus and our government's response to it. I have been thinking about what will be the new normal once we get to the other side of the pandemic. Will it be the "normal" we have left behind, or are we ushering into a completely different world with a new definition of normal?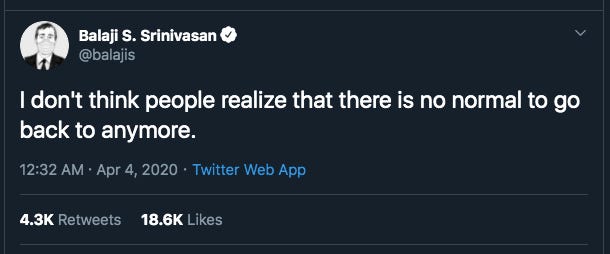 Mckinsey published a report on March 30 with the below graph: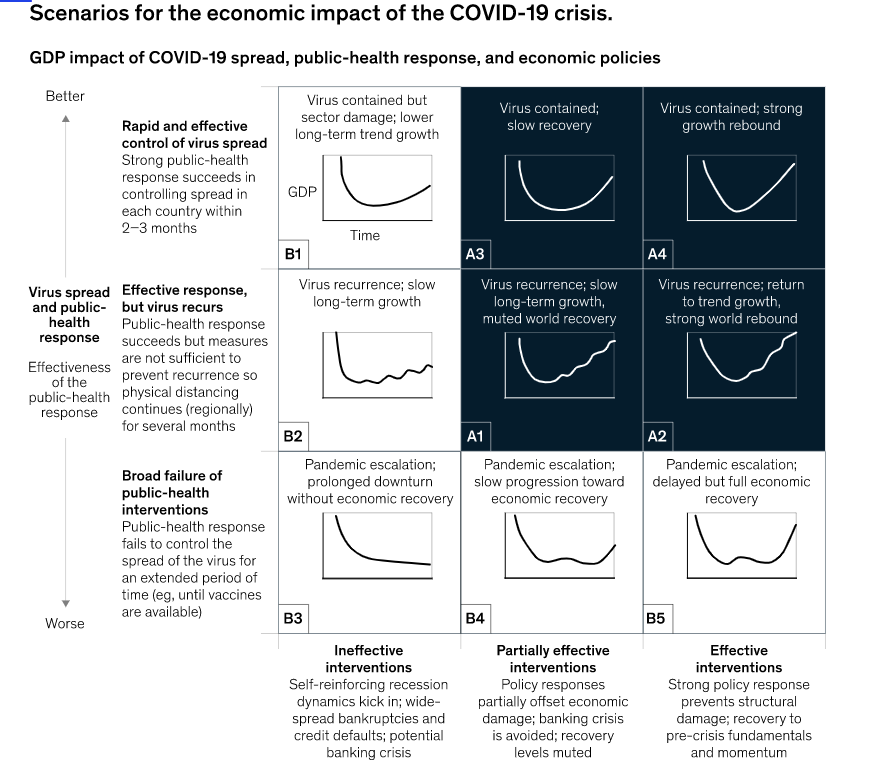 It is anybody's guess as to which bucket each of the countries will fit into. The next few weeks will help us determine the efficacy of the steps the Indian Government has taken to mitigate the impact of Covid19. 
I am struggling to choose between A1 and B4 from the image above. If you put a gun against my head and asked me to choose, I would select A1. What would you choose? Answer the question in the survey shared at the end of the email, and I will publish the results in the next week's newsletter. 
This past week I haven't done a lot of reading. I decided to revisit the best essays I have read in the past and share stories from them for you to read. It's been exhilarating to revisit these essays, and I recommend you read these gems if you find the morsels interesting.
The memo Boeing executives should have read.
In David Perell's essay, "Why did Boeing 737 MAX crash", he says, "Until it acquired McDonnell Douglas in 1997, Boeing had a reputation for speed and innovation." The acquisition led to a tectonic shift from a culture of innovation to cost-cutting & risk-averseness. A lot of the manufacturing was outsourced to contractors, and in some cases, contractors sub-contracted to other manufacturers, thus reducing Boeing's visibility into the operations. 
One Boeing engineer named L. J. Hart-Smith warned against the dangers of outsourcing in a leaked memo published in 2001. In the memo, Smith argues outsourcing should be seen as an added cost, not a cost reduction. 
Boeing's leadership did not listen to Smith and preferred the short-term benefits of outsourcing. Boeing ended up outsourcing more than 30% of the manufacturing and shooting their budget by $12-18 billion. The lack of visibility into the manufacturing practices of third-party vendors and focusing on incremental innovation were few factors that led to the crash of two 737 Max aeroplanes. 
The footnotes of Smith's memo tell quite a story:
The views expressed here are those of the author and not necessarily those of the Boeing management. Conversely, the visible policies of the management are not necessarily those that the author would have recommended, had he been asked.
Read the hard-hitting essay (25-minute read) by Perell.
Sergey Aleynikov vs. Goldman Sachs 
Sergey Aleynikov, a Russian Programmer, was hired to improve the speed of Goldman's high-frequency trading platform. In the high-frequency trades, millions of dollars are lost if the systems lag even for a few milliseconds. Goldman was ready to pay $270,000 per year to Sergey to improve its system and amass more revenue.
After a few months working, Serge concluded that the best thing they could do with the platform was to scrap it altogether and build a new one from scratch. 
His bosses weren't interested. "The business model of Goldman Sachs was if there is an opportunity to make money right away, let's do that," he says. "But if there was something long-term, they weren't that interested."
After trying his luck, Sergey decentralized Goldman's system to increase the speed of the exchange of information between disparate systems. To do this, he resorted to open-source software, available free to anyone for any purpose. He wished to resubmit the improvements to the code back into the open-source world. However, Goldman had a one-way relationship with open source; take all you want, give nothing back. 
After spending two years with Goldman, Sergey decided to move onto a new high-frequency-trading company called Teza Technologies. During the notice period, he sent himself the code he had worked on during his stint at Goldman. The code was a mix of open source and Goldman's proprietary code. He always sent himself the code throughout his job, and no one questioned him. The act on its own isn't a completely innocent one, and Sergey did know Goldman's one-way relationship stance. 
Since leaving Goldman, Sergey has spent more than $10 million fighting the Wall Street behemoth over 32 megabytes of code for its high-frequency trading system.  
Read this incredible essay (45-minute read) by Michael Lewis.
In addition to the stories here are a few recommendations for this week:
Podcast - Sequoia Capital, a VC firm in business for five decades, published a public memo (only for the second time in its history) on March 6, 2020. Listen to the podcast episode Sequoia's Black Swan Memo (with Roelof Botha). In the episode, they discuss the events leading to publishing the memo and reasons as to why they published this to the broader public and not just to the CEOs and founders of their portfolio companies. 

Product - I read a tweet that described this product as a game-changer. Saka is a chrome plugin that helps you use to search across tabs, bookmarks, history, and recently closed tabs as well. 
Submit the feedback survey
I would love it if you could take a couple of minutes and submit the feedback for the newsletter. It also has the question that asks you to predict the impact of Coronavirus on the GDP of India. 
Thank you to everyone who reads the newsletter every week. Every edition is an attempt to improve and deliver more value. I started the newsletter to offer morsels of insights that otherwise are hidden across the Internet. 
If you find value in reading this newsletter, I request you to forward this to a friend who might enjoy reading it. And, as always, if you have feedback or comments, please respond to the email and confirm your humanity! Thank you!