Discover more from Adi Patil
A little bit of everything and a lot of nothing.
Tasty Morsels from Groovy Hubs #11
The Loneliness Epidemic, Morsel from Jio-Facebook deal & Trivia on Maggi
One of the questions that I get asked when I make a new acquaintance is, "Do you live with your family here in Chennai." I reply yes - It's me and my wife who live here and my parents live near Hyderabad. This statement invariably confuses people.
Family to most of us in India cannot be just a Husband and Wife. It has to include children, parents, grandparents, cousins, uncles, and aunts. The joint family system of yesteryears glory is in the process of disintegrating.
According to a study done on families in India, Nuclear families (couples with children) form the highest % of households. Extended families (one or more parents or relatives) are also typical. There are more single-mother households (5.4%) than single-father households.
I have been a party to the joint family set up when I was a child, and I quite enjoyed the energy and the comradery among the 'extended' family members. However, I was also privy to the toll it took on the women in the family to care for everyone. In such a setup having privacy was a luxury. The dependency on each other for the rigmarole of the daily lives gave little or no chance for one to experience Loneliness.
Loneliness is the topic of this week's edition.
In 2017 and 2018, the former U.S. Surgeon General Vivek H. Murthy declared an "epidemic of loneliness."
I heard Vivek Murthy on NPR's Hidden Brain podcast in an episode titled "A Social Prescription: Why Human Connection Is Crucial To Our Health." In the same week, I also read this short essay "The History of Loneliness" in Newyorker.
The essay tries to answer the question, "In the age of quarantine, does one disease (COVID) produce another (Loneliness)?"
Loneliness is grief, distended. People are primates, and even more sociable than chimpanzees. We hunger for intimacy. We wither without it. And yet, long before the present pandemic, with its forced isolation and social distancing, humans had begun building their own monkey houses.
Murthy, in this new book "Together: The Healing Power of Human Connection in a Sometimes Lonely World," explains Loneliness is the source behind a host of problems—anxiety, violence, trauma, crime, suicide, depression, political apathy, and even political polarization.
The argument is tough to latch onto as there is no evidence accompanying it.
The essay, thankfully, also shares a contrarian opinion of the British historian Fay Bound Alberti.
Modern loneliness, in Alberti's view, is the child of capitalism and secularism. "Many of the divisions and hierarchies that have developed since the eighteenth century—between self and world, individual and community, public and private—have been naturalized through the politics and philosophy of individualism," she writes.
The argument of capitalism playing a role in modern Loneliness holds true in the case of India. After the liberalization in 1991, the high-paying jobs became concentrated in fewer cities, mostly restricted to metros. Young men and women moved to these cities in search of better livelihoods leaving behind their larger families in India-2 and India-3. Most of them never went back, creating the generations of nuclear families that constitute almost 49% of the households today in India.
The essay covers the role of Social media in the epidemic of Loneliness briefly. The tech community's poster child might be playing a role in alienating individuals with society.
Some people say that the success of social media was a product of an epidemic of loneliness; some people say it was a contributor to it; some people say it's the only remedy for it. Connect! Disconnect!
I recommend you read the essay and listen to the podcast.
I would like to end the segment with the quote below that has struck a chord with me. It's from the book The courage to be disliked by Ichiro Kishimi and Fumitake Koga. Here is a short tweet summary of the book.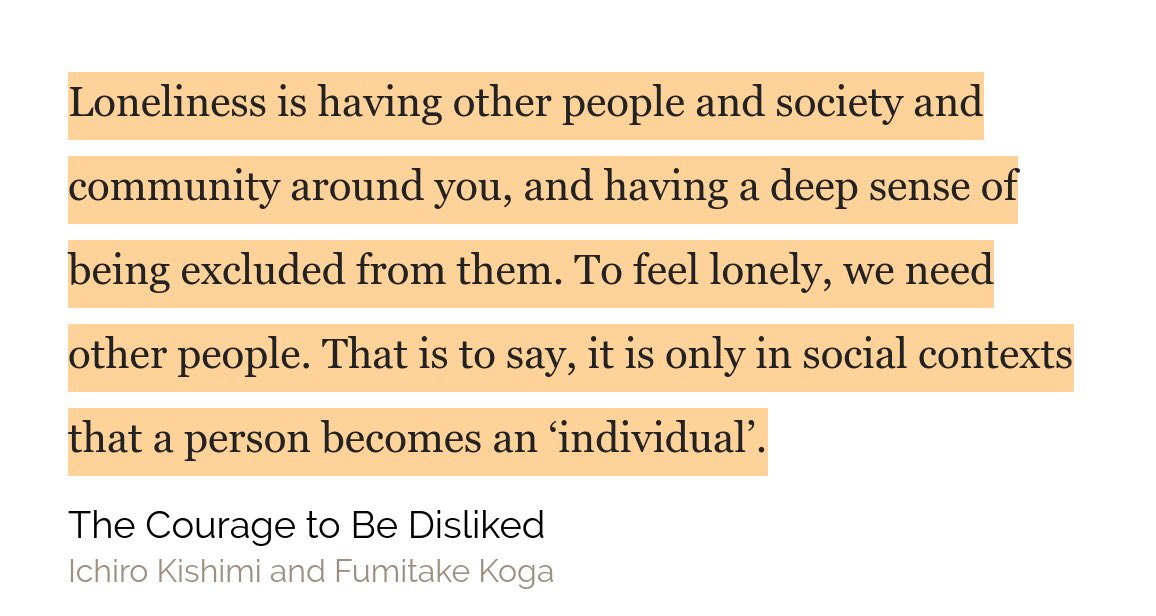 The Morsel from Jio-Facebook deal
Facebook bought a 9.9% stake in Jio Platforms by paying $5.7 billion.
There were millions of takes on the deal. Some were incredibly creative and funny but mostly false. The only take that made sense to me was from Ashish Mishra. He sent an update to the subscribers of The Morning Context.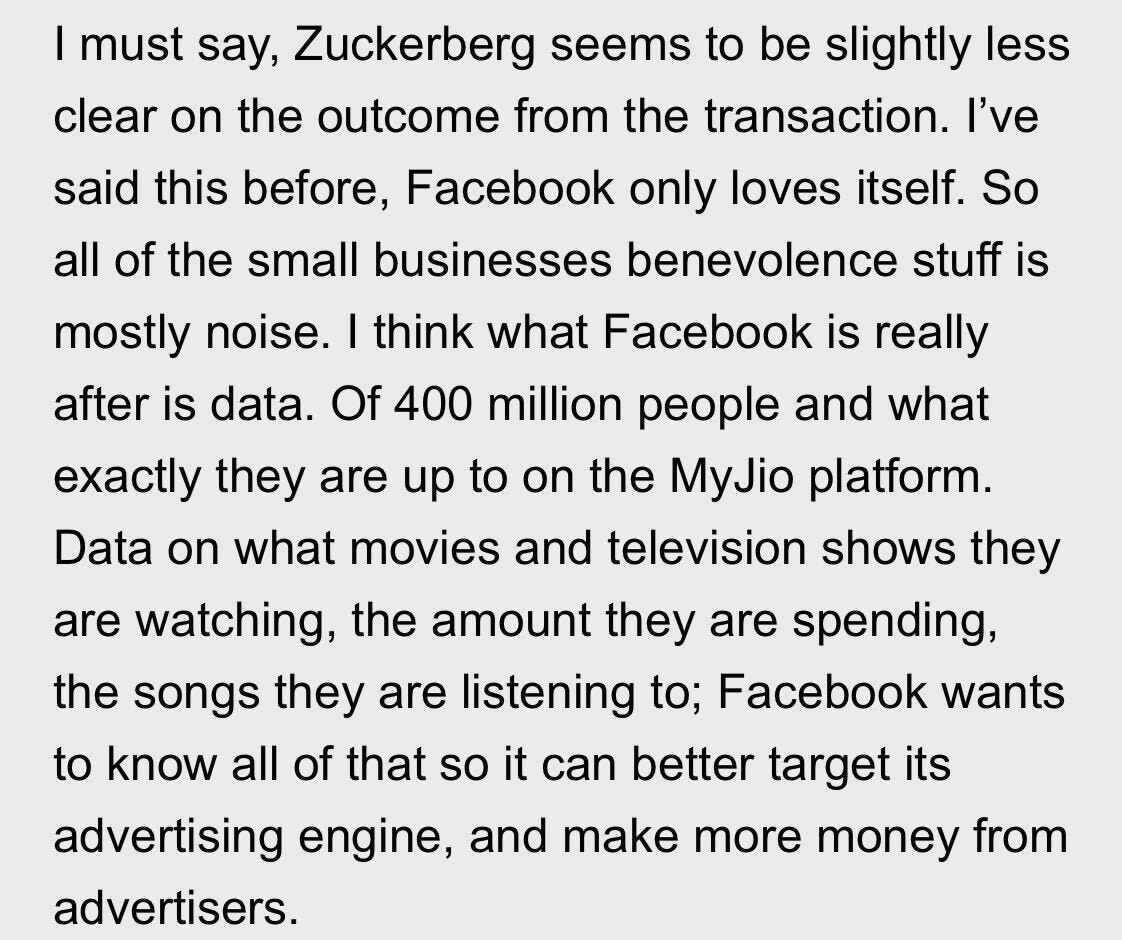 Did you know?
Maggi was named after a Swiss entrepreneur Julius Maggi. He was the inventor of pre-cooked soups and the magic sauce
I hope you enjoy reading this edition as much as I enjoyed writing it. If you liked what you read then, please share it with a friend who may like reading the newsletter. As always, please feel free to share your feedback and comments by replying to the email.
Have a good week, everyone. Stay safe and healthy.