Discover more from Adi Patil
A little bit of everything and a lot of nothing.
Tasty Morsels from Groovy Hubs #10
NYT magic trick that failed, How WhatsApp is aiding in extremism & SomeGoodNews
I am sleep-deprived right now, and hence it's a perfect time to write this edition of Tasty Morsels from Groovy Hubs. 
I have always been fascinated as to why I get bouts of creative periods right before I am about to sleep. There's a reason for it. Read here about the upside of Insomnia. Here's the quote the does a great job of synthesizing the entire article into four sentences. 
"When you're sleep-deprived, I imagine it's quite similar to having taken certain drugs," says Bayley, who has a degree in neuroscience. "The logical side of your brain is slowly withering away because there's not enough energy to power it, and all these crazy ideas start happening that your brain would normally suppress. I find the brain a mystical beast. It's so bizarre and interesting."
Let's get to today's main story.
The NYT magic trick that failed
Act 1
On March 19, Mariott International posted a video from its CEO, Arne Sorenson, on Twitter. 
It was a passionate cry of a leader trying to make sense of the Covid Crisis. It was widely appreciated, talked about, and circulated on Social Media. It became the holy grail of "response-to-covid" videos.  
Act 2
NewYork Times (NYT) published an article on April 13 with the headline "Big Business Pledged Gentler Capitalism. It's Not Happening in a Pandemic"
In the article, the publication critiques the execution of the Business Roundtable Document, which is essentially a document pledged by CEOs of 181 companies, committing to run their companies for the benefit of workers and communities, and not just for shareholders.
At the end of the article as a final punch, they write this:
Twelve days later, the company (Marriott) paid its scheduled dividend to shareholders. On April 8, Marriott filed with the Securities and Exchange Commission proposals that its board would present for approval at a meeting of shareholders next month. Among them: a 7.7 percent salary increase for the chief executive, plus a cash bonus of up to 200 percent.
The genuineness in the video did not make sense anymore. The people of the Internet took it upon themselves to ridicule the hypocrisy of the Mariott's CEO.
Thankfully not all of us believe every word we read. 
Act 3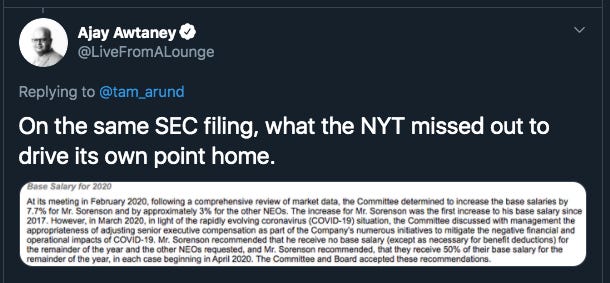 NYT conveniently omitted the request Mariott's CEO made to the board on the hike and base salary he should receive. 

Look, I am not saying we shouldn't question the validity of gestures that might come across as pandering to an audience at best or a PR activity at worst. However, in pursuit of getting more eyeballs, if you leave facts on the table to make your story seem right, then you are a bigger hypocrite. 
It's been five days, and NYT has not redacted or added a comment to the story. 
Additional articles to read:
Read how WhatsApp, with its 400 million active users in India, provides a shockingly excellent infrastructure for the spread of Hindu Extremism. Alert: The article is a long read (30+ minutes) and a sensitive one at that. If you have ever wondered how technology and media have influenced the social divide in India, then this story is a must-read. 
Some of us get creative and find ways to justify the value of our knowledge work to argue that we make a difference to the world. Maybe we do in a weird little way. However, there is no questioning on who are the heroes who are making a difference in the covid world - Medical Professionals. Read this incredibly sad and deeply moving article by an ER doctor working in NewYork. Alert: Be prepared to visit the horrific reality of the impact of Covid19. 
Video - YouTube Channel
SomeGoodNews - John Krasinski, Jim from TheOffice, has started what must be the best new channel on YouTube. John uses his network and celebrity status exceedingly well and collects stories that will make your day, week, or month. In unprecedented times like these, maybe, just maybe, if for a brief minute you forget about the Coronavirus, then you have lived well ephemerally. There are three episodes so far, and John has upped the ante every time. I love to watch these videos and retain my faith in humanity just a little longer before it eventually dies out. 
Thanks to those who responded to my survey two weeks back. (Yes, I missed writing the previous week's edition. Don't tell anyone. Shh...)
It was heartening to see the number of people who said they would be disappointed if I stop writing the newsletter. 
Also, most of us (63%) believe that Covid's impact on India's GDP will be muted and slow. 
I hope you enjoy reading this edition as much as I enjoyed writing it. If you liked what you read then, please share it with a friend who may like reading the newsletter. Also, it would mean the world to me if you responded to this email and confirmed your humanity. As always, please feel free to share your feedback and comments. 
Have a good weekend, everyone. Stay safe and healthy.